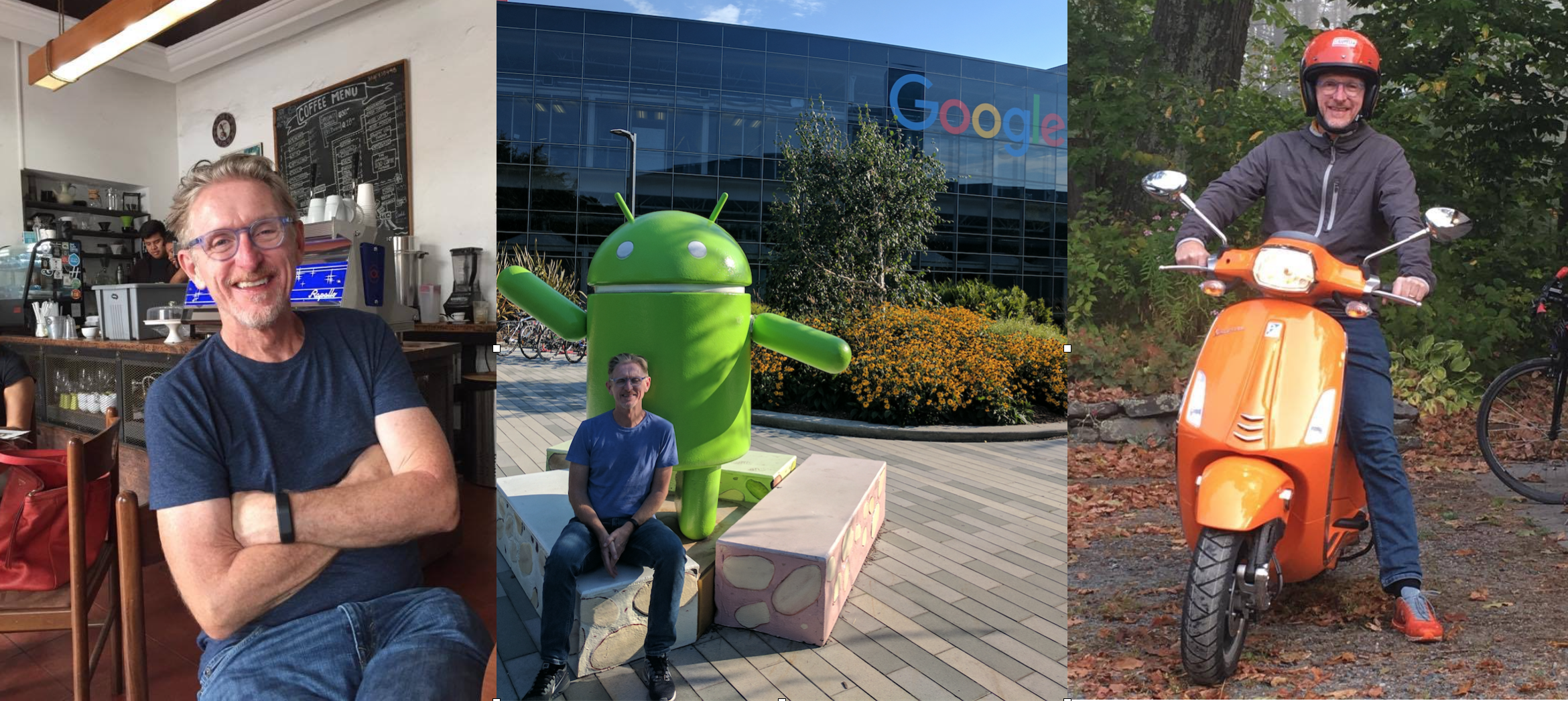 [photo by Susan Zak. Antigua, Guatemala, 2017; with the droid Google, Mountain View, 2017; and on my Vespa in Vermont, Fall 2017]

publications | dartnets lab | demos
I am a professor of computer science working on mobile computing at Dartmouth College where I co-direct the DartNets Lab with Xia Zhou. My research focuses on the development of computational methods for smartphones and wearables with the goal of understanding human behavior in the wild. I am particularly interested in mental health sensing and prediction using mobile phones. At Dartmouth, I lead the StudentLife project and participate in the CampusLife consortium on student health and well-being. During 2016-2017 I took leave from Dartmouth and joined Google and Verily as a visiting research scientist working in the Android group in Mountain View on wearables and at Verily in South San Francisco on mental health sensing - it was an absolute ball.

Before joining Dartmouth, I was a tenured associate professor of electrical engineering at Columbia University. Prior to that I spent 10 years in the software industry leading the development of operating systems and wireless networks. At various points in my career I've also been a visiting professor at Carnegie Mellon University (Rwanda), University of Salamanca (Spain), and Cambridge University (England).

My research in mobile computing has been widely covered by the popular press as well as TV and radio, including, the New York Times, Economist, Financial Times, Wired, New Scientist, New Yorker, NPR, BBC, and CBS. Checkout my Google scholar page (Dartmouth's Google Scholars) and h-index for computer science for up to date publications and research impact.

During my career I have had the great fortune to closely collaborate with an amazing set of researchers who have inspired me -- starting with Aurel Lazar (Columbia) during my Columbia years when I worked on computer networks, Tanzeem Choudhury (Cornell) in the area of human dynamics and sensing, and more recently, Xia Zhou (Dartmouth) in Mobile X.

I live in Norwich, Vermont, with my wife, Susan Zak, and our sons, Miles (now at Brown) and Will.

Office: Sudikoff 260; always campbell@cs.dartmouth.edu -- no office phone, so last century ;-)

Thanks for visiting!
teaching

CS 69/169 Wearable Computing (Spring 2017)
CS 65/165 Smartphone Programming (Spring 2017)
CS 69/169 Wearable Computing (Winter 2016)
CS 65/165 Smartphone Programming (Winter 2016)
CMU Rwanda mini-course on mobile sensing (Fall 2015)
CS 50 Software Design and Implementation (Spring 2015)
CS 69/169 MobileHealth@Dartmouth (Winter 2015)
CS 69/169 Human Behavioral Computing
CS 60 Computer Networks
CS 69/169 Seminar on Smartphone Sensing and Programming
CS 88/188 Clouds, Crowds and Phones
awards
ACM UbiComp Honorable Mention Award for SmartGPA paper, 2015
ACM MobiSys Best Demo Award, 2015
ACM MobiCom Best Video Award, 2015
Google Faculty Research Award, 2014
ACM UbiComp 2014 Best Paper Nominee Award, 2014
ACM VLCS 2014 Best Paper Award, 2014
MobiCASEBest Paper Award, 2012
ACM UbiComp 2011 Best Paper Nominee Award, 2011
Friedman Family Fellowship (Dartmouth College), 20009-2010
EPSRC Fellow (UK), Cambridge University, 2003-2004
NSF Faculty Career Development (CAREER) Award, 1999-2003
IBM University Partnership Faculty Award, 1999
ATT Foundation Faculty Award, 1996
EPSRC Scholarship (UK), Visiting Scholar, Columbia University, 1994-1995
current PhD students

Rui Wang
Kizito Masaba
Shayan Mirjafari
Weichen Wang
graduated PhD students

Andras G. Valko (Ericsson Research, Hungary), Design and Analysis of Cellular Mobile Data Networks, December 1999
Javier Gomez-Castellanos (National University of Mexico), Energy-Efficient Routing and Control Mechanisms for Wireless Ad Hoc Networks, December 2002
Raymond R.-F. Liao (Siemens, Berkeley) Dynamic Bandwidth Management for Internet and its Wireless Extensions, December 2002
Michael E. Kounavis (Intel Research), Programming Network Architectures, June 2003
Andras Veres, (Ericsson Research, Hungary), Modeling TCP Dynamics and Engineering Service Differentiation in TCP/IP Networks, July 2004
Chieh-Yih Wan, (Intel Research), A Resilient Transport System for WIreless Sensor Networks, March 2005
Rita H. Wouhaybi, (Intel Research), Algorithms for Reliable Peer-to-Peer Networks, June 2006
Seoung-Bum Lee, (Mayflower Communications), Adaptive Quality of Service for Wireless Ad Hoc Networks, June 2006
Shane Eisenman, (Harris Corporation, RF Communications), People-Centric Mobile Sensing Networks, October 2008
Gahng-Seop Ahn, (City University of New York), Information-driven Tracking and Access Control in Wireless Ad hoc and Sensor Networks, June 2009
Nic Lane (Oxford University), Community Guided Sensing Systems, February 2011
Emiliano Miluzzo (ATT Labs), Smartphone Sensing, June 2011
John Vicente (Intel Corp), An Emergent Architecture for Scaling Distributed Communications Systems, September 2011
Hong Lu (Intel Corp), Smartphone Sensing and Inference of Human Behavior and Context, April 2012
news

Keynote address on Future of Mental Health Sensing on College Campuses, Feb, 2018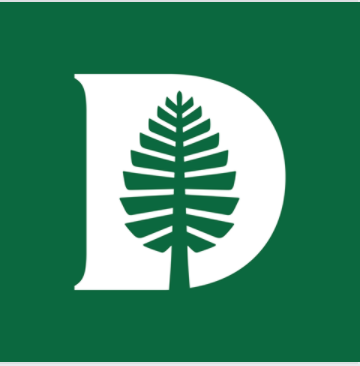 Professor Finds a Lot to Learn During His Year at Google, Feb, 2018

Dartmouth Computer Scientist at Forefront of Sensing Revolution, November 2017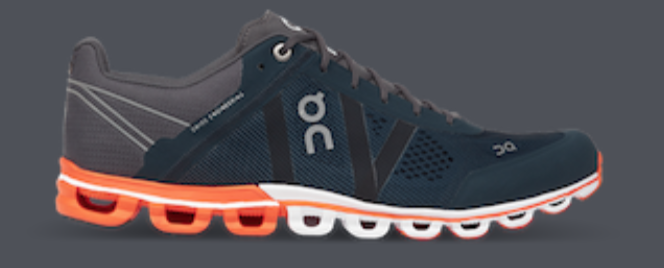 Completed 3 marathons this year: Vermont, San Francisco, and a very windy Green Mountain marathon. Not great times (all under 5 hours) but brings me to 13 so far. I'm out of retirement!

New NIH grant ($2.3M) with UW: Mobile RDoC: Using Smartphone Technology to Understand Auditory Verbal Hallucination, September 2016

New IAPRA grant ($7.9M): Comprehensive Modeling for Job Performance via Sensing, September 2016

New NIH grant ($3.2M): Functional Anatomic Studies of Self-Affect: A Multimodal Approach, September 2016

Cathartic moment for me. I gave a keynote at the ACM UbiComp workshop on mental health: My brother Ed: Mental illness was not his choice. September 2016 -- peace brother!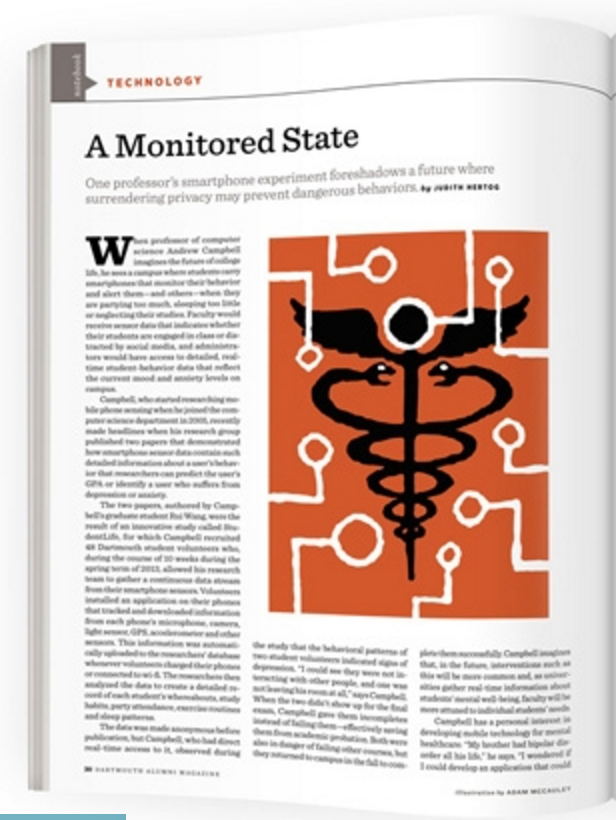 A Monitored State, Dartmouth Alumi Magazine, July 2016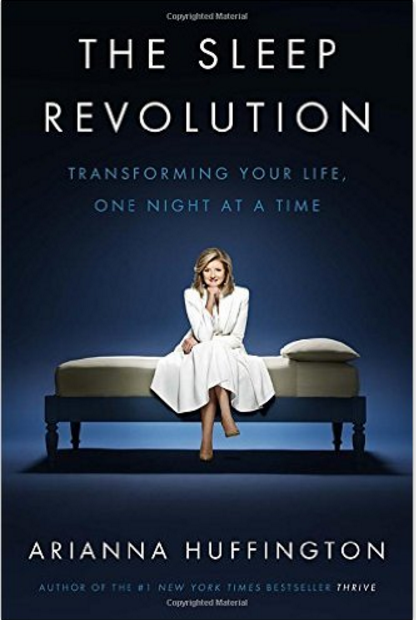 StudentLife gets a mention in Arianna Huffington's new book Sleep Revolution, March 2016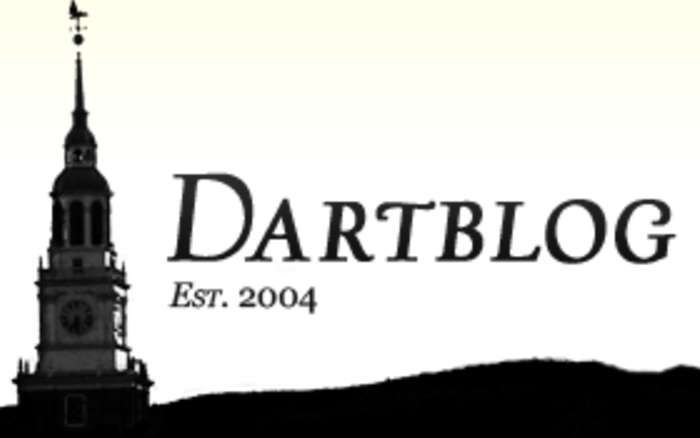 Brian Solomon's guide to the stars, March 2016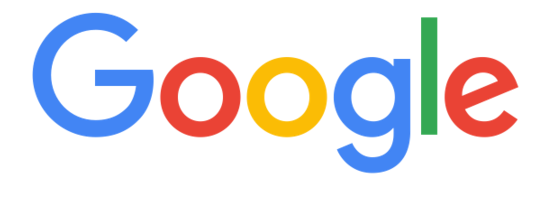 I'm very excited to be joining Google for the next academic year, Feb 2016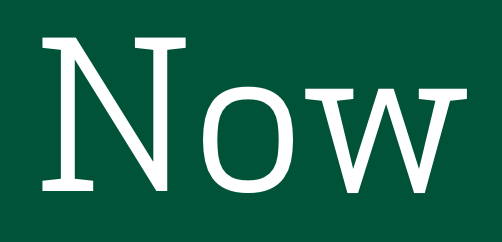 A Computer Scientist's Serendipitous Sabbatical, Feb 2016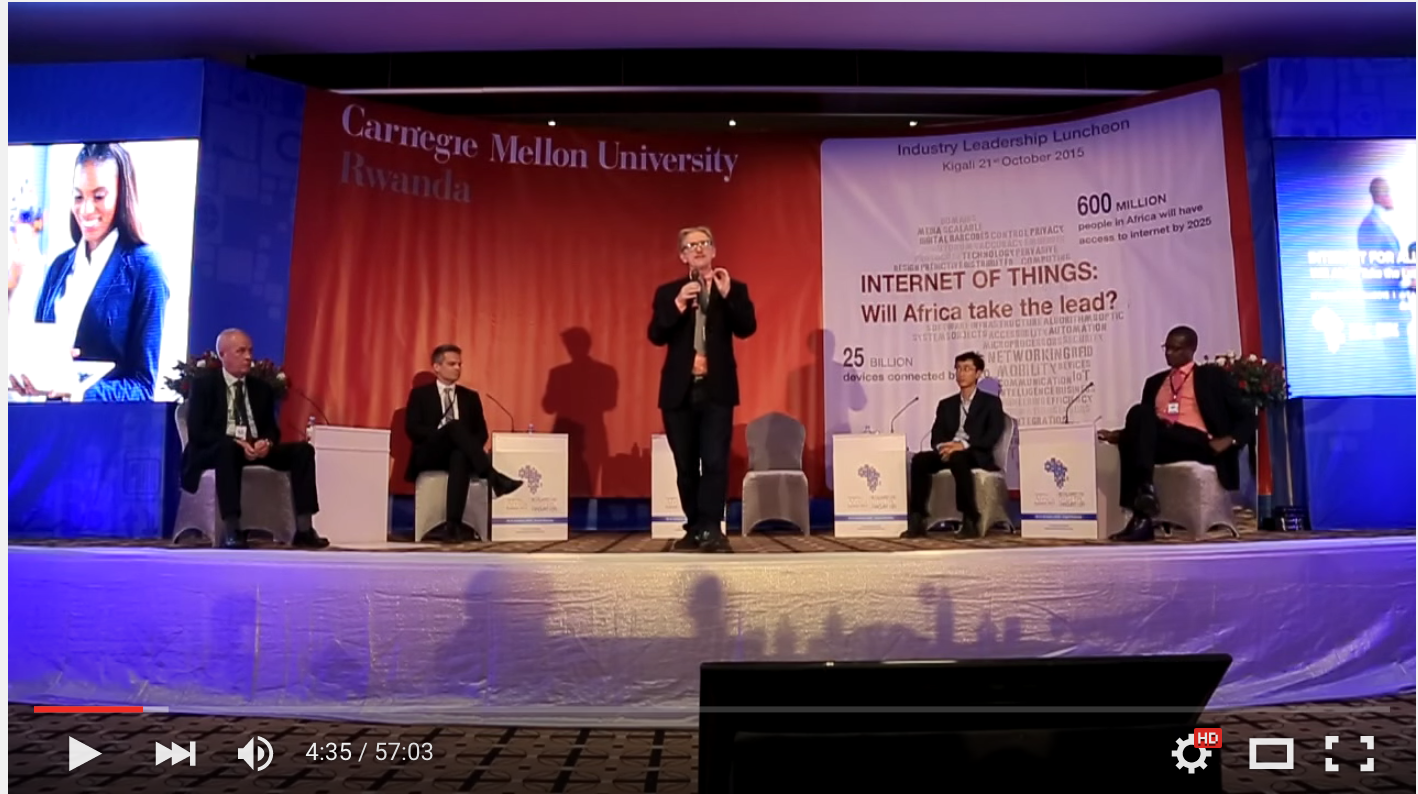 Internet of Things: Will Africa take the lead? Panel @ Transform Africa 2015 Summit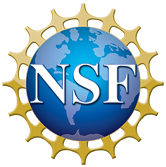 New NSF grant on personality sensing with Sam Gosling, James Pennebaker, Gabriella Harari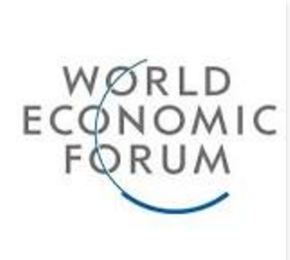 Work on mobile sensing got a mention at Davos: Your smartphone, your therapist? Jan 2016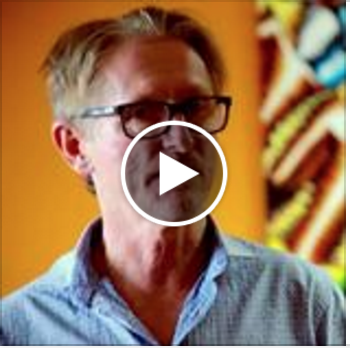 Why you should go teach at CMU in Rwanda, Jan 2016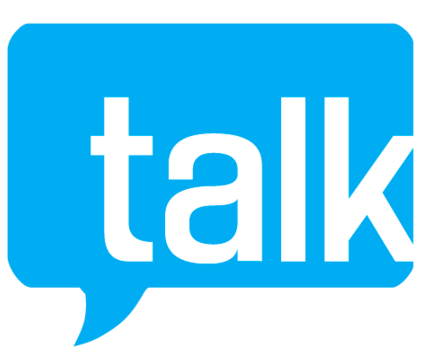 I gave a talk (video) at Georgia Tech on the StudentLife project, November 2015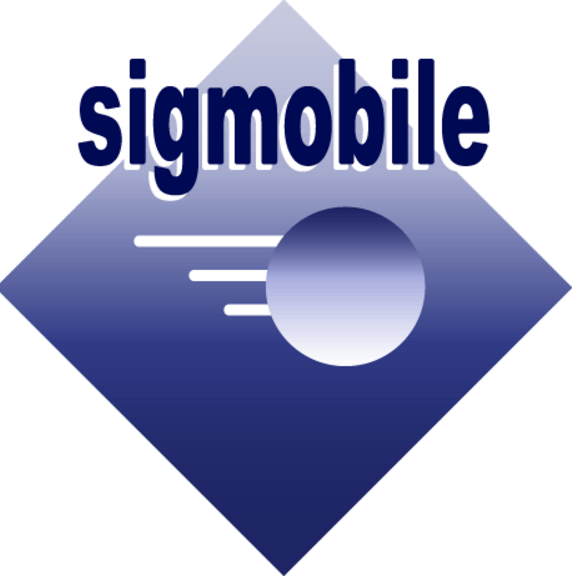 I'm chairing the ACM SIGMOBILE inaugural test of time paper award, September 2015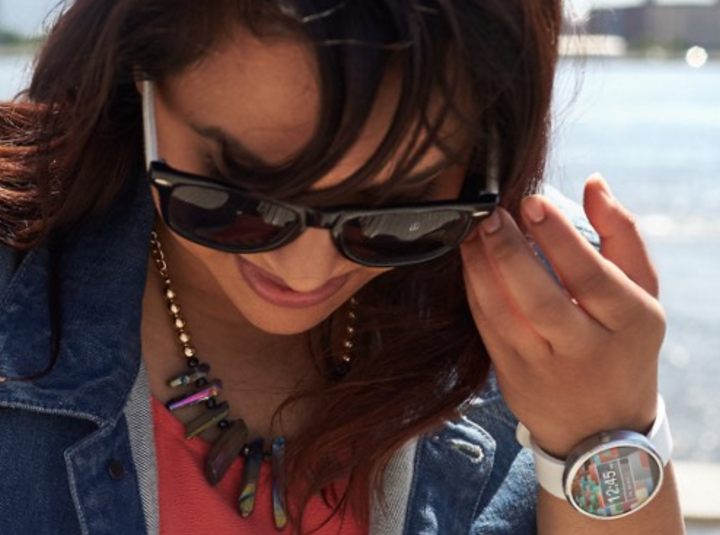 Teaching a new seminar on wearable computing, Winter 2015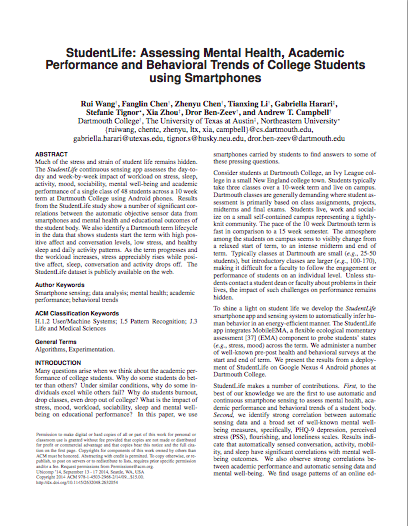 Awards: UbiComp honorable mention, MobiSys best demo, MobiCom best video, Sept, 2015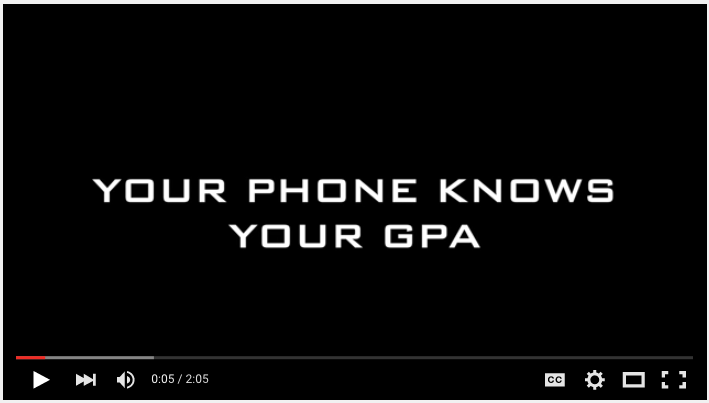 Did you know that your phone knows your GPA?, Sept 2015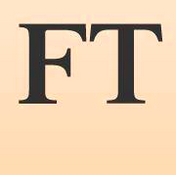 Students under surveillance, July 2015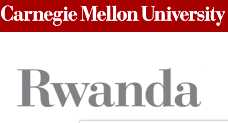 I'll be a visiting faculty at CMU Rwanda in the fall teaching mobile sensing, July 2015

Passive measurements of behavior, talk at the Workshop of the Precision Medicine Initiative,
Working Group of the Advisory Committee to the NIH Director, Santa Clara, July 2015

Making cruel unusual, July 2015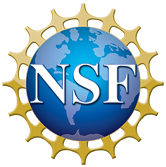 Organizing the NSF sponsored workshop on College Student Health with Bonnie Spring, July 2015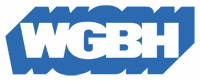 Predicting GPA and student success? Dartmouth researchers say there's an app for that, during NPR's Morning Edition and All Things Considered shows, June 8, 2015



Keynote on StudentLife, AAAI ICWSM Conference [slides], Oxford, May 2015

When do dartmouth students study, party, and sleep? June 2015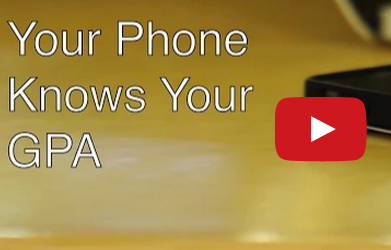 Your smartphone knows your GPA, youtube, May 2015

The Quantified Student: An App That Predicts GPA, June 2015

App claims to know your GPA just by looking at your phone, June 2015

The app that can predict your GPA, June 2015

Researchers use an app to predict GPA based on smartphone use, June 2015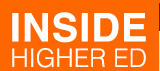 Can a New Smartphone App Predict GPA? June 2015

Dartmouth Predicts GPA Based on Phone Tracking App, June 2015



Really smart phones: Now they can predict your GPA, June 2015

Dartmouth Researchers Create First Smartphone App That Predicts GPA, May 2015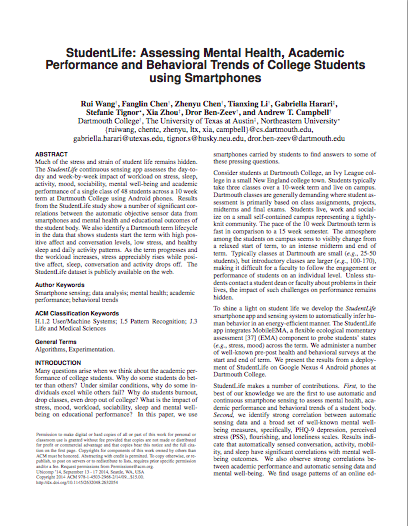 HiLight at MobiSys, SmartGPA and WiScan at UbiComp, and LiSense at MobiCom, May 2015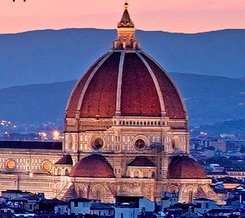 HiLight wins best demo at ACM MobiSys, May 2015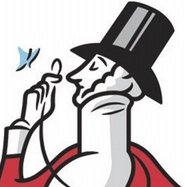 We Know How You Feel, New Yorker, January 2015


Creative methods help teens with depression, February 2015

Giving an invited talk: Annual Depression on College Campuses Conference
How Smartphone Apps Can Treat Bipolar Disorder and Schizophrenia, Nov, 2014

Diagnosing depression with an app, The Independent, November 2014

Smartphone apps could be next tool for mental wellbeing, ABC (listen), Nov 2014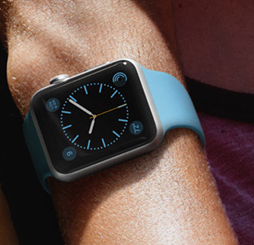 Seminar in MobileHealth@Dartmouth, winter term, October 2014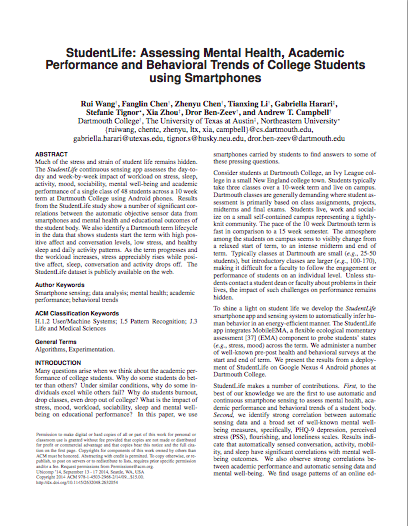 HiLight paper won the best paper award at MobiCom VLCS'14, October 2014

Mental Health App, BBC World News TV Impact, October 2014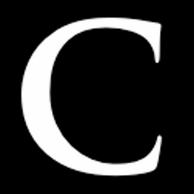 New App Measures Students' Mental Health, Chronicle of Higher Ed, Oct 2014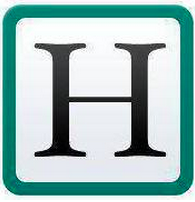 App Can Tell When Students Are Stressed Out,September 2014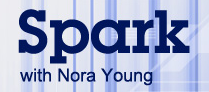 Sensing Depression, Radio interview with Nora Young on CBC/NPR Spark, Sept 2014

Your App, Yourself, Editorial, September 2014

Failing Students Saved by Stress-Detecting App, September 2014

Sensitive Smart Phones Decipher The Habits Of Successful Students,September 2014
This App Passively Tracks Your Mental Health,September 2014

Stressed Out? Your Smartphone Could Know Even Before You Do,September 2014

This Phone App Knows If You're Depressed, September 2014

Your Smartphone Thinks You're Sad, September 2014

Smartphone App Knows When You're Feeling Blue,September 2014

Dartmouth Teacher Makes Health App,September 2014

Dartmouth's StudentLife App Can Tell You If Your Mental Health Is Hurting Your Grades, September 2014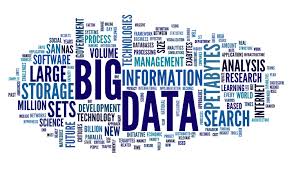 We have publicly released the StudentLife dataset, September 2014

StudentLife paper has been nominated for best paper at UbiComp 2104, September 2014

How Are You Feeling—and Doing? Ask Your Smart Phone, September 2014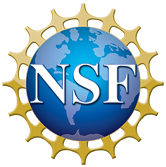 New NSF grant on advancing virtual light communications and sensing with Xia Zhou, July 2014

Smartphone App Keeps Watch Over Schizophrenic Patients, July 2014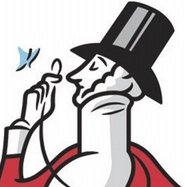 The Case for Banning Laptops in the Classroom (Dan Rockmore), New Yorker, June 2014

Dartmouth Computer Science Students Forsake Robotics for Nanocopters, April 2014

Students' Nanocopters Take to the Air Above the Green, March 2014

Google Faculty Research Award with Xia Zhou, February 2014
CS 69/169 Human Behavioral Computing, winter 2013


New NIH EUREKA grant; see Harnessing the Power of Smartphones to Prevent Psychosis, November 2013
I won the "had to be said" session at ACM MobiCom 13 and that's Sharad Agarwal presenting me with the hottest wireless notepad on the market; MobiCom is a live and well BTW, superb talks, great demos and a lively crowd in Miami this year, September 2013.

Higher Ed Adapts to the Mobile App Economy, (aired during NPR's mng edition)

David Kotz and I are hosting ACM MobiSyS 14 at the Mount Washington Resort. September 2013


Co-founded the DartNets Lab with Xia Zhou, September 2013


Keynote at the UbiComp 13 mobile systems for computational social science, September 2013

Using a Smartphone's Eyes and Ears to Log Your Every Move, July 2013

Microphones as sensors: Teaching old microphones new tricks, Economist, June 2013

MoodRhythm wins open mhealth challenge, June 2013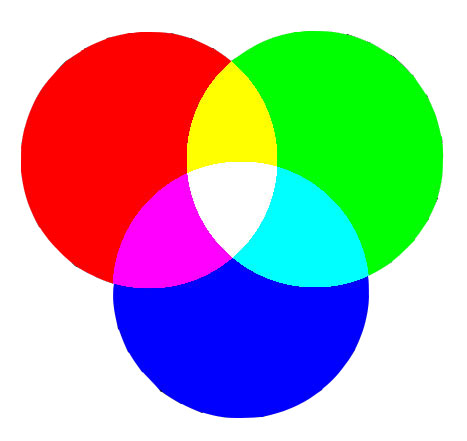 Biorhythm Project kicks off. We renamed the project to StudentLife (thanks Pete) April 2013

Biorhythm project monitors students, April 2013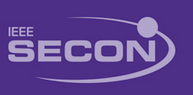 Keynote at IEEE SECON 13 on the rise of mobile sensing and the end of the smartphone era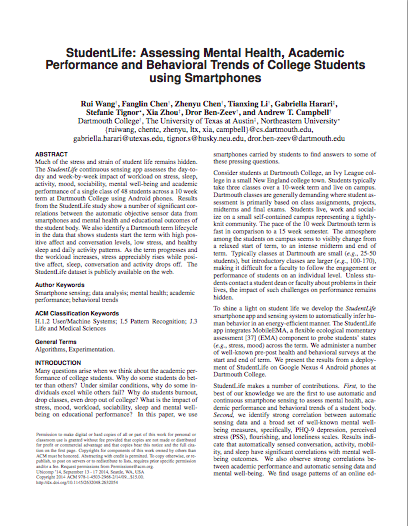 CarSafe at MobiSys and unobtrusive sleep monitoring at Pervasive Health, March 2013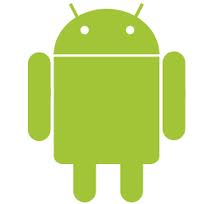 CS 65/165 Smartphone Programming - new Android programming class Spring 2013

Smartphone App Alerts Drowsy Drivers, December 2012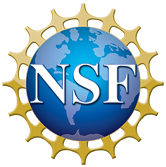 Final report and recommendation from the NSF Sponsored Workshop on Pervasive Computing at Scale, November 2012


Visage: A Face Interpretation Engine for Smartphone Applications won the best paper award at the Fourth International Conference on Mobile Computing, Applications and Services (MobiCASE), October 2012
App Crams Driver Aids Into Android Phone, October 2012

Lane-keeping app makes any car smarter, September, 2012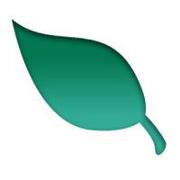 Other press coverage of CarSafe: CBS's smartplanet, networkwold, gizmag, msnSeptember, 2012

I'm Technical Program Co-Chair of the PervasiveHealth conference, Venice, May 5-8, 2013


Smartphone that feels your strain, September, 2012

Voice-Stress Software Is Put to the Test, August 2012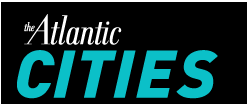 3 Next-Gen Apps for the Stressed-Out Urbanite Cities, The Atlantic Cities, August 2012

From Smart to Cognitive Phones, Pervasive Computing Magazine, June 2012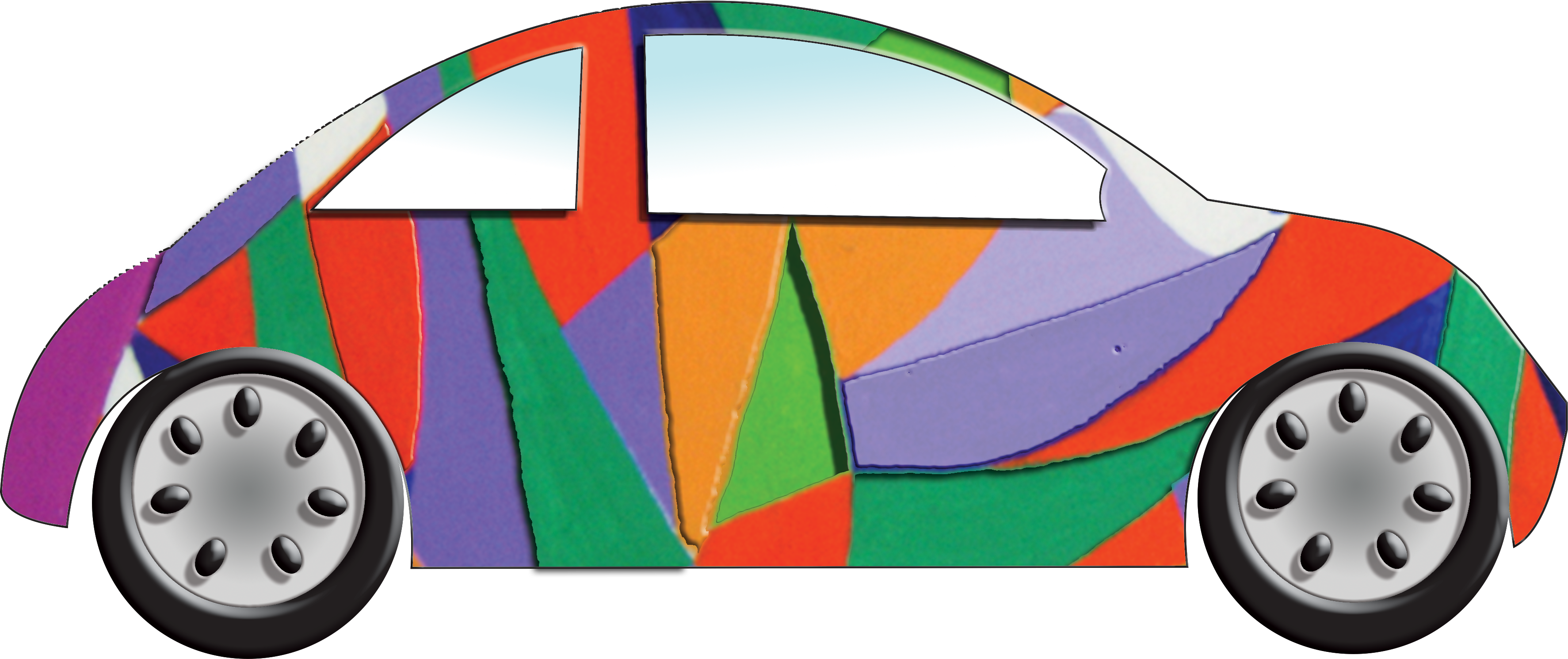 A demo of our CarSafe app, June 2012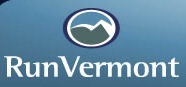 Tick. 10 marathons. Started back in 1997. New York (3), Stowe (2), Shakespeare (1) and Vermont (4) -- now what?, June 2012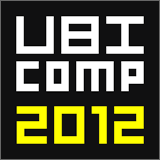 Detecting Stress in Unconstrained Acoustic Environments using Smartphones, May 2012

We released BeWell App on Google Play - here is a demo of how it works, May 2012

2 HotMobile papers that grabbed us: WalkSafe and SpinLoc, Networld, March 2012

The Little Voice in Your Head, January 2012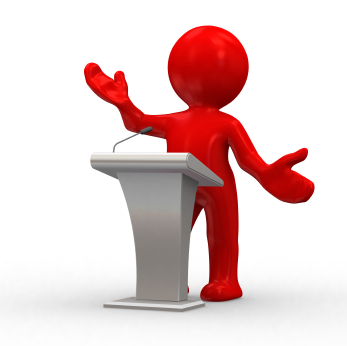 Keynote on "How are you feeling Android?", 13th Meeting Society for Personality and Social Psychology (SPSP), San Diego, January, 2012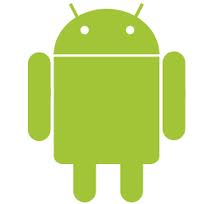 CS 69/169 Smartphone Sensing and Programming, winter 2012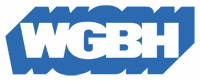 Texting While Walking Draws Safety Concerns — And An App, WGBH Boston aired a feature (audio included) on our WalkSafe App during NPR's Morning Edition and All Things Considered shows, December 20


Discovey Channel's Daily Planet aired a piece on WalkSafe (5 minutes into the show), November 29



Smart-Phone App Warns Pedestrians of Oncoming Cars, November 2011

Phone App For Distracted Pedestrians Detects When You're About to Get Hit By a Car, , November 2011

Safely Cross the Street With An App That Watches For Traffic, November 2011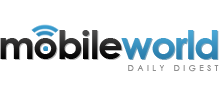 WalkSafe Android App Helps you Walk Safe, November 2011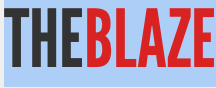 New App Actually Alerts Texting Walkers they're about to get Hit by a Car, Nov 2011

WalkSafe: Early Warning App Tries to Keep You from Getting Run Over, November 2011

WalkSafe App Keeps you from Strolling into Traffic, November 2011

Fast Company's Co.Exist Get Some Therapy From An App That Reads Your Feelings Through Your Voice, November 2011

CBS News Sunday Morning The next step in bionics aired on CBS, October 2011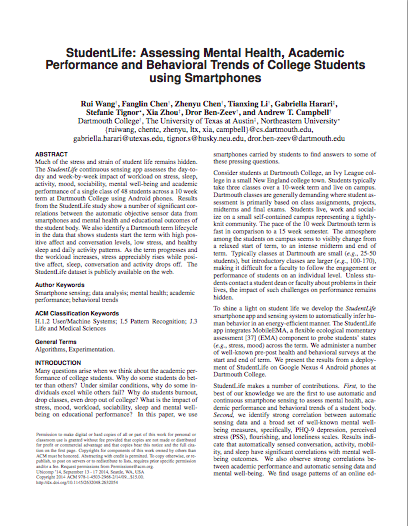 smartphone sensing published in UbiComp, Pervasive, ICDM and Pervasive Health, 2011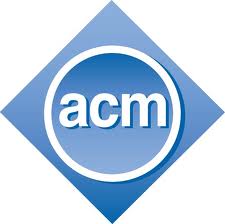 I'm Technical Program Co-Chair of the 10th ACM Conference on Embedded Networked Sensor Systems (SenSys)

Our work on the Neural Phone is featured in the NYTimes Magazine article onThe Cyborg in us all, [pdf][demo]September 2011

UbiComp 2011Our paper on Community Similarity Networks (CSN) was nominated for the best paper (5 out of 300) award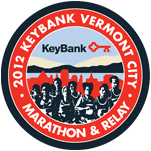 I finished my 9th marathon (one more to go then I'm done), May 2011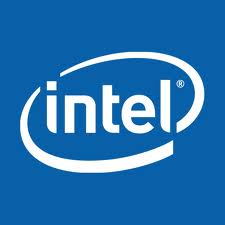 Future Lab: Context Aware Computing (interview), April 2011


Interview on the IT conversation network about smartphone sensing, January 2011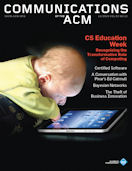 The eyes have it, [pdf] Communications of ACM, December 2010


Tanzeem Choudhury develops cellphone apps to track our health, EarthSky, November 2010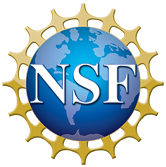 Diane Cook (WSU), Shwetak Patel (UW), Roy Want (Intel Labs) and I are organizing an NSF Sponsored Workshop on Pervasive Computing at Scale, Seattle, January 27-28, 2011

Nokia toys with context-aware smartphone settings switch, Jigsaw provides better context for apps like this, Engadget, November 2010

Smartphone app monitors your every move, November 2010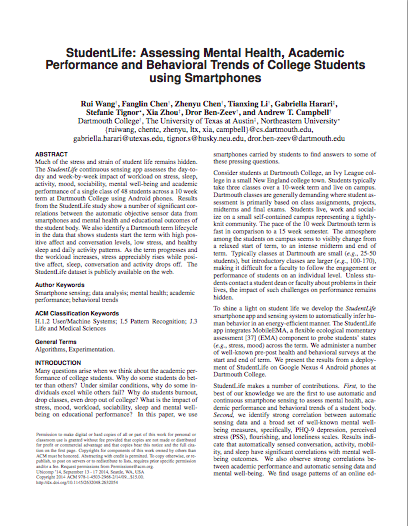 Smartphone sensing published in UbiComp, Pervasive, ACM MobiSys, ACM SenSys and AAAI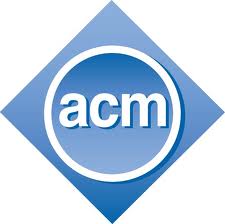 Jie Liu (MSR) and I organized a workshop on Sensing for App Phones (PhoneSense) collocated with SenSys, November 2, 2o1o

The NeuroPhone, The Atlantic, September 2010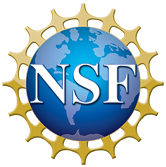 New NSF EAGER grant on "Brain-Mobile Interfaces: Exploratory Research into the Development of Networked NeuroPhones"with Tanzeem Choudhury and Rajeev Raizada, September 2010

Share Information to Boost Cellphone Performance, June 2010

EyePhone: New Cellphone Software Tracks Users' Eye Movements For Control, May 2010

Eye Tracking for Mobile Control, May 2010

Mobile Phone Mind Control, April 2010
keynote talks

"StudentLife", AAAI Conference on Web and Social Media (ICWSM 2015), Oxford, May 2015
"BioRhythm Study: A term in the life of a Dartmouth Class", at the UbiComp 13 workshop on mobile systems for computational social science, Zurich, September 2013
"Rise of mobile sensing and the end of the smartphone era", IEEE Conference on Sensing, Communications and Networking (SECON), New Orleans, June 2013
"My phone told me I'm stressed and should go for a run", EPSRC-funded Cross-Disciplinary Research Conference, London, October 9-10, 2012.
"Smartphone Sensing for the Masses", ACM Eye Tracking Research & Applications Symposium (ETRA 2012), Santa Barbara, March 28-30, 2012
"How are you feeling Android?", Pre-Conference Workshop on Using Smartphones as Mobile Sensing Devices: A Practical Guide for Psychologists to Current and Potential Capabilities, Thirteenth Annual Meeting of the Society for Personality and Social Psychology (SPSP), San Diego, January 26-28, 2012
"Smartphone Sensing for the Masses", Eighth Annual International Conference on Mobile and Ubiquitous Systems: Computing, Networking and Services (MobiQuitous), Copenhagen, December 6-8, 2011
"After Smartphones, Cognitive Phones: Enabling Behavioral Applications and Networks", EPSRC Workshop on Social Sensing: Mobile Sensing meets Social Science, University of Cambridge, Cambridge, UK, March 17, 2011
"Mobile Phone Sensing is the Next Big Thing!", ACM Workshop on Mobile Opportunistic Networking (MobiOpp 2010), Pisa, Italy, February 22-23, 2010
"People-Centric Sensing and the Rise of the Global Mobile Sensor Network", SENIOT: From Sensor Networks to Networked Intelligent Objects, Bertinoro International Center for Informatics (BiCi), International CONET Summer School, Bertinoro (Forlì-Cesena), Italy, July 26 - August 1, 2009
"After Motes and Multihop: Mobile Phones and the Global Mobile Sensor Network", 7th IEEE International Conference on Pervasive Computing and Communications (PerCom), Galveston, March 9-13, 2009
"The Rise of People-Centric Sensing", 10th International Conference of Distributed Computing and Networking (ICDCN), Hyderabad, India, January 3-6, 2009
"The Rise of People-Centric Sensing", BCS Visions in Computer Science, London, Imperial College, London September 22-24, 2007
"MetroSense: People-Centric Sensing at Scale", 2nd Annual European Conference on Smart Sensing and Context (EuroSSC 2007), Lancaster, UK, October 23-25, 2007
smartphone sensing apps

We started to develop smartphone sensing apps in 2006; here are a few of the apps we have developed -- a key constant is exploiting embedded sensors and pushing learning to the phone to build new behavioral apps. Check out the video demonstrators and survey. These short demo videos have had (collectively) over 100,000 hits.

SmartGPA: can a phone predict your grades?

NeuroPhone: can a thought drive a phone?

HiLight: can phones communicate using light?

WalkSafe: can a smartphone watch your back?

CarSafe: simultaneously watches for distracted driving inside the car and dangers outside the car

BeWell: first continuous sensing well-being app -- automatically learns your sleep, activity and conservation patterns and provides feedback

SoundSense: learns the sounds in your life

EyePhone: first eye driven phone interface for mobile phones

CenceMe: first continuous and automatic social sensing app for smartphones



Abstract:
Autonomous rovers are the next step in exploration of terrestrial planets. Current rovers contain some forms of semi-autonomy, but many functions are still performed by remote human operators. As the distance between Earth and the exploration target increases, communication delays will make teleoperation of rover platforms increasingly difficult. Through the use of autonomous systems, operators may give mission parameters to autonomous exploration rovers and allow onboard systems to carry out the task. In addition, if future exploration requires a repetitive task, such as resource gathering, autonomous rovers represent the best technology for the job. Autonomous rovers face many challenges. Among them are sensor stabilization, localization, obstacle detection, and path planning. This thesis describes an approach for each of the above mentioned challenges. Sensor stabilization was performed using an inertial measurement unit (IMU) and the reverse angle method of stabilization. A 2D Light Detection and Ranging (LIDAR) sensor provided input data for a landmark-based localization algorithm. The same LIDAR unit was actuated to perform 3D scans used in an obstacle detection method based upon ground plane removal, via random sample consensus (RANSAC), and Euclidean Clustering. A modified A* algorithm was used as an occupancy grid-based path planner. The approaches were verified through implementation on the University of Alabama Modular Autonomous Robotic Terrestrial Explorer (MARTE) platform as part of the 2014 NASA Robotic Mining Competition.
Description:
Electronic Thesis or Dissertation
Show full item record